Industrial means a design concept that gives a semi-finished or unfinished impression. The industrial concept looks unique, to-the-point, and what it is is motivated by various industrial components. This style is synonymous with the interior style of industrial factories in the 19th century. The history of industrial design is from Europeans where they often used factory buildings that were not used as residences.
They want to leave the appearance of the building without being polished or replaced at all. Inspiration from an industrial style is very close to the raw style that appears in warehouses, factories, or other industrial structures. This is indicated by a detailed architectural view that looks open, such as the use of bricks without plaster. While details on industrial buildings often use brick, metal, or other recycled materials.
Currently, industrial design continues to be widely used in various countries, including Indonesia. The impression that is displayed from an industrial house means that it is unique, as it is, and does not highlight luxury. Interested in using industrial inspiration in your home, you? Let's know the characteristics of the following industrial houses:
Material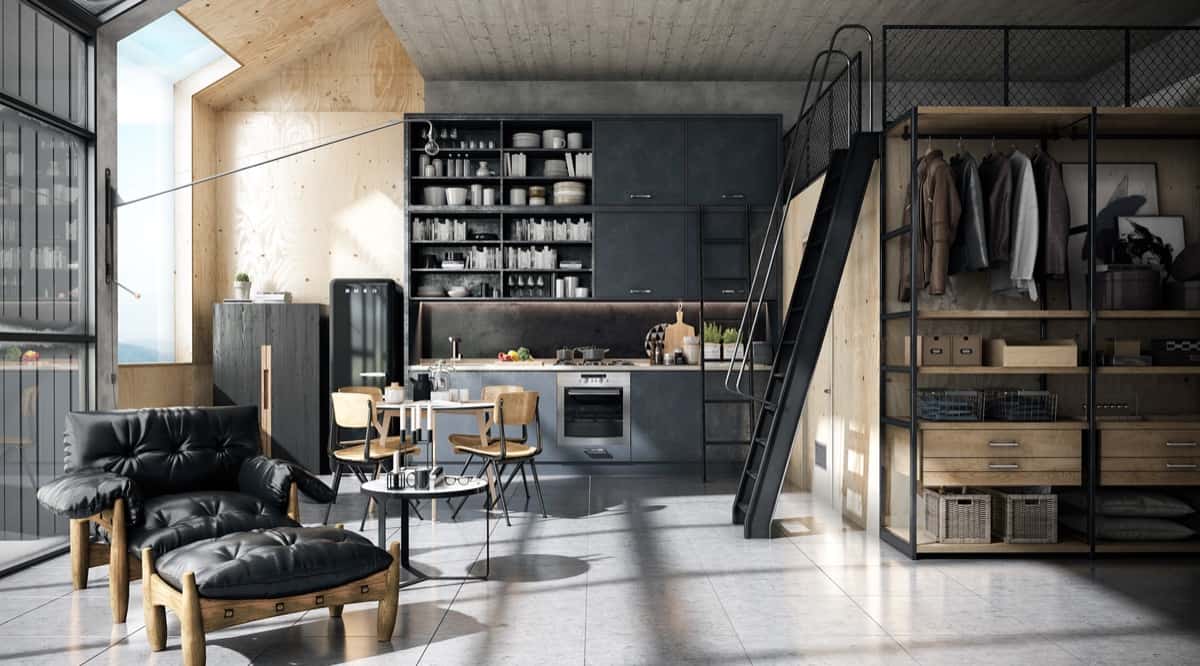 The unique industrial concept will be very visible in the materials used. If you want to wear this style, avoid using materials that give an elegant look, such as silk. The main distinctive characteristics of housing materials are the selection of materials that have a strong personality, are durable, and have functional recycling energy. Utilize metal, aluminum, wood and stone materials for the interior design of the house to strengthen the industrial design.
Color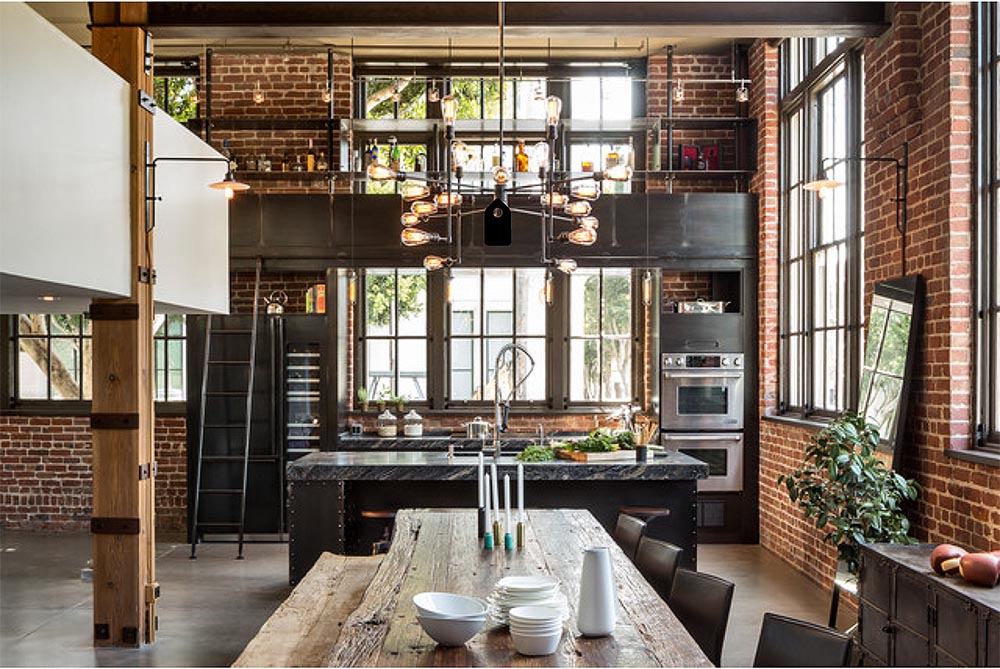 Color is also an important element in implementing industrial-style residential concepts. The use of neutral colors such as gray, dark, and white, and black motifs are characteristic of industrial style. Not only that, some houses will also provide shades of black and bright shades through the support of works of art and displays. The goal is to make the room look more alive.
Line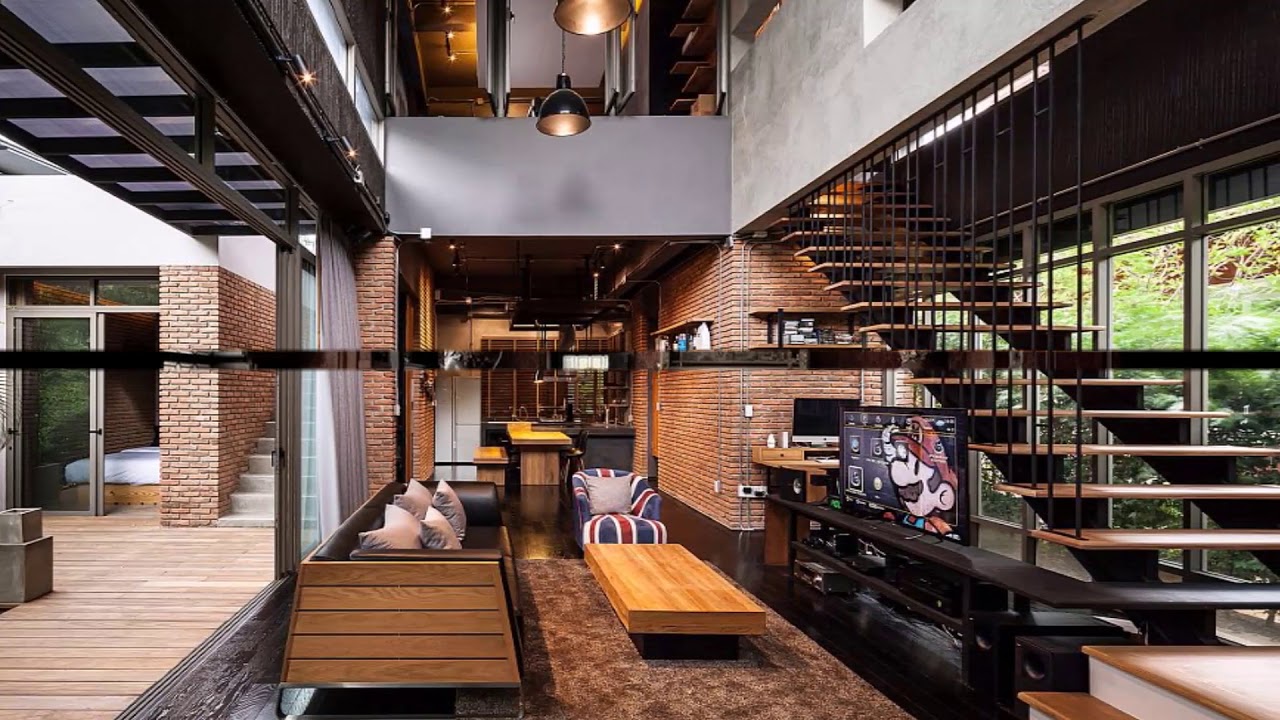 The next distinctive characteristic of the industrial style is the presence of straight lines and a firm structure. But that doesn't mean industrial homes can't introduce beautiful curves or abstract patterns. Pay attention so that the time of application must be right and not too late.
Furniture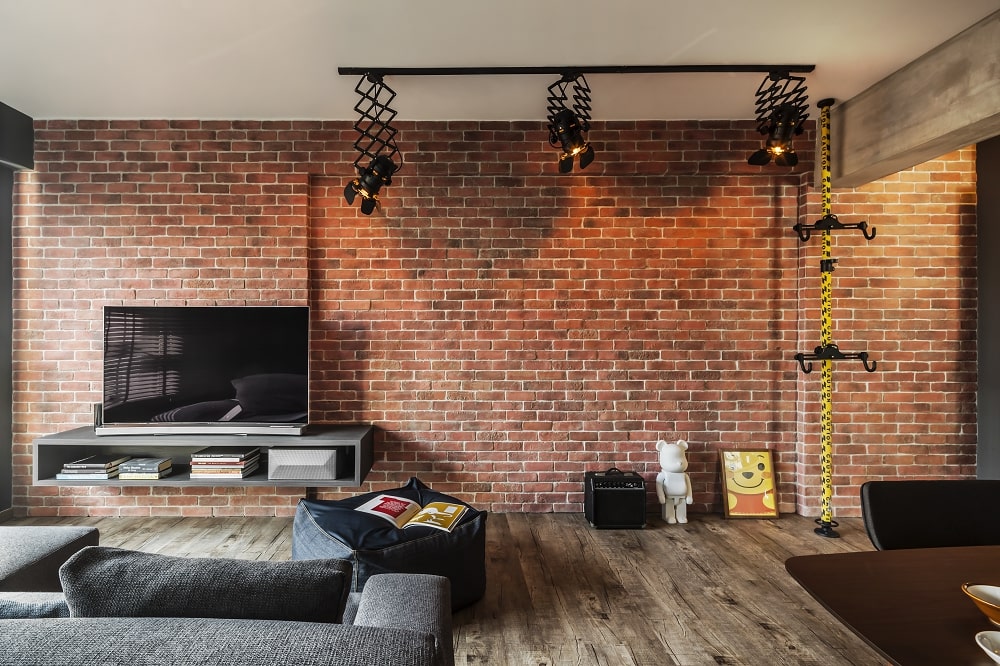 The main key to an industrial house is simplicity. In industrial-concept housing, elements of decoration and furniture are minimal but attractive. Selection of industrial home furniture can mix elements that impress classic and modern. Moreover, many people use recycled or leftover furniture in their industrial homes.
Trinkets and Decorations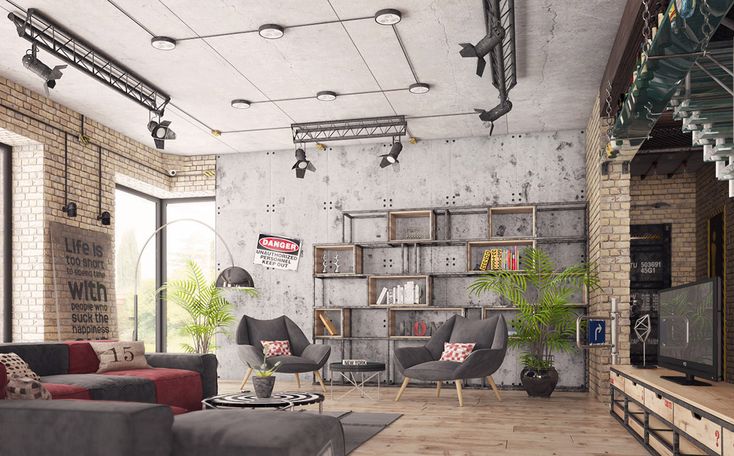 To give a simple and minimalist impression, the use of knick-knacks or decorations is also rare in industrial home designs. Industrial style focuses on use. Instead, you display knick-knacks with large abstract room art, metal structures, and other interesting objects made from recycling will definitely make the space interesting.
Advantages and Disadvantages of Industrial Design
Homes with industrial style have recently been very popular. Not only does it have a unique and charming impression, there are several industrial advantages, including:
Affordable, because the selection of materials and furniture does not need to be luxurious. What's more, you can minimize your budget by using leftover or recycled furniture.
Freedom to explore and be able to customize the look using furniture and make-up that is truly unique.
The contrast between modern and classic can coexist harmoniously.
Environmentally friendly, because of the approach that uses recycled materials, a little paint, and does not always require a fireplace system that wastes materials and energy.
Free and safe.
Meanwhile, the drawbacks of industrial houses are the selection of materials, furniture, and others that require extra effort. Because, industrial style not only shows uniqueness, but must have consistency so it doesn't make it look cheap. Searching for materials and makeup can also be more difficult, but of course the results will also be very satisfying when they are pursued to the end.
If you want to practice industrial concepts at home, here are some tips:
Use Iron Material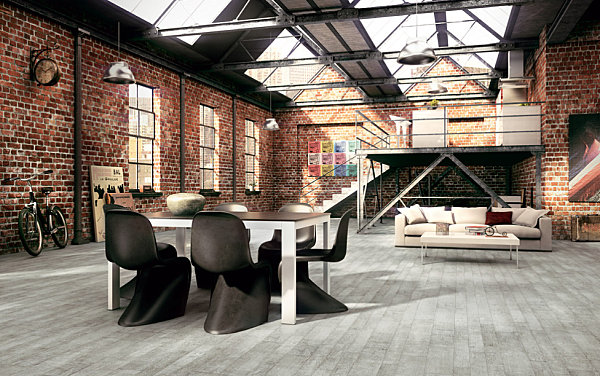 Following the typical interior style of the factory, you can apply iron to a house with an industrial title. You will have a strong impression without showing luxury when using iron or steel, tin, and other building materials. Enter the iron factor into industrial homes, such as floor lamps, chandeliers, stair railings, to the door handles. Choose cool toned colors, such as gray, dark, and other strong neutral colors.
Wood Accents to make the house warmer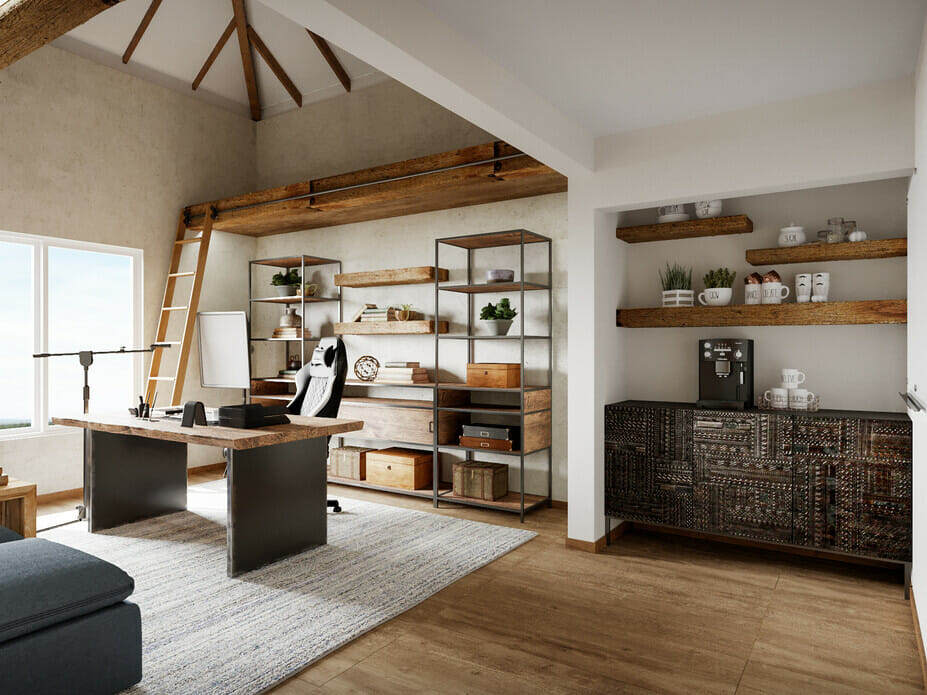 If iron gives a strong impression, then you can add wooden elements to make the house look warmer. Choose a type of wood that is sturdy so that it can support the roof optimally. No need to use new wood, you can use old or unfinished wood. Old wood also provides added value in the form of unique accents. Leftover wood can be used in some furniture ranging from sofas, tables, cabinets, to home decoration. On the floor, use new wood and have been polished so it doesn't hurt your feet when you walk.
Exposed Brick on the Wall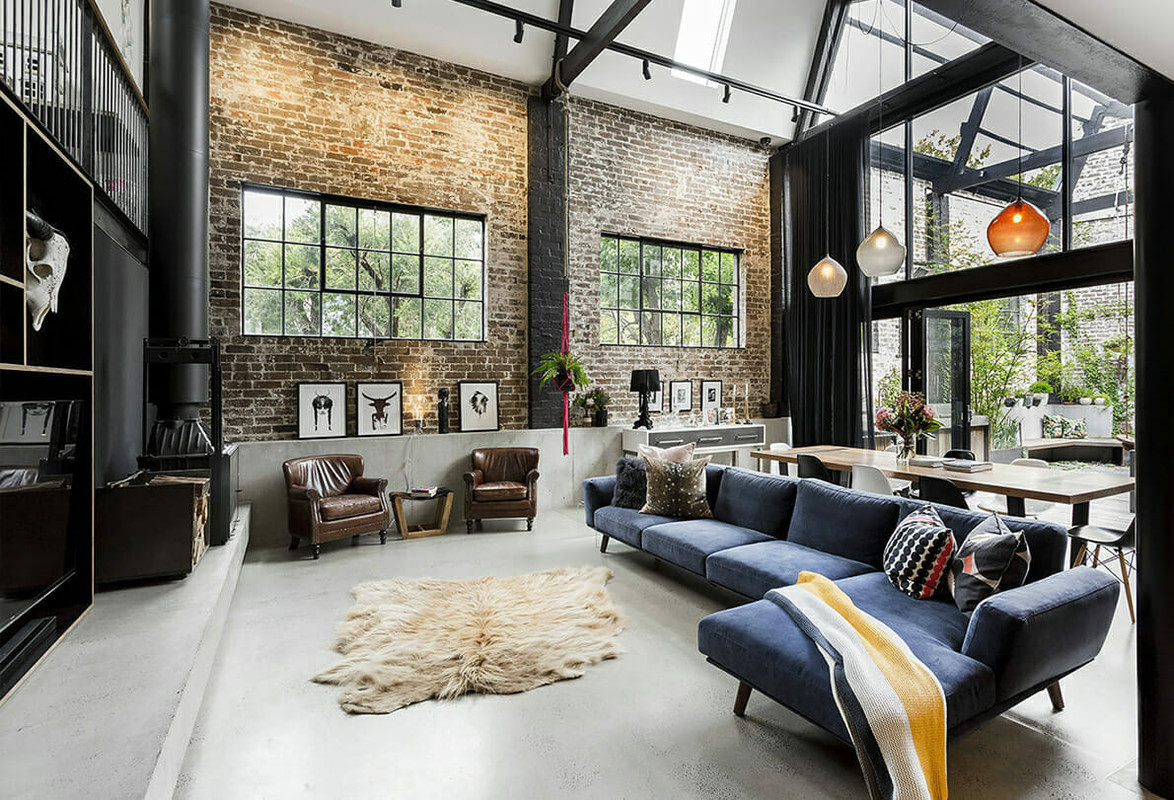 Bricks are often used as the bottom material for building a house with a layer of cement and wall paint. So, in industrial houses, planed bricks are exposed without cement and paint in the house. This exposed brick gives a new color to your living room. The exposed brick room can be left with the original brick color, which is orange, or given extra paint. It doesn't have to be applied throughout the house, choose the side of the room where you want to make exposed brick.
Now you understand, don't you? Industrial means for a design or building concept? Hopefully it's useful!